How do we humans become who we are?
How do beliefs and values shape our work, our communities, our relationships, and our lives?
These are the sorts of questions we grapple with on a daily basis. The Beliefs, Events, and Values Inventory (BEVI) helps us understand that who people are matters.

What is the BEVI?
The Beliefs, Events, and Values Inventory (BEVI) is an accessible, adaptable, and powerful analytic tool that can be used in a wide range of settings. It is currently in use in the contexts of Education & Learning; Leadership, Organizations, & Training; Research & Evaluation; and Mental Health & Well-being. For a more in-depth look at applications for these areas, click the links in the menu to the right.
The BEVI items – they make you think; they make you feel. It's gripping in that way. It's not superficial at all. Dr. William Hanson, Associate Professor, University of Alberta, Canada
Education and Learning
Analytical Applications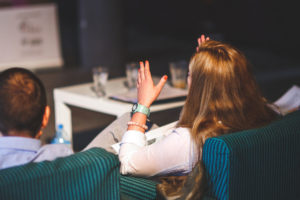 Our skilled and experienced consultants are available to provide as much support as groups, systems, organizations, or institutions need to successfully envision, design, and deliver analytical projects.
Pedagogical Applications
The BEVI can help institutions engage individuals and groups in transformative learning and professional development. BEVI narrative reports of results for individuals provide gentle yet effective language to prompt personal reflection, and debriefing of aggregate, decile, and subgroup results promotes dialogue.
I think [the BEVI] can be used in many ways if you are looking to understand learning or looking for transformation and the ability to document it. The BEVI has particularly strong psychometrics… which gives me a lot of comfort in its use. Dr. Libby Nutt-Williams, Professor, St. Mary's College, Maryland
Leadership & Organizations
For leaders to be sustainable and responsive they must see how their goals, values, and endeavors are connected with the goals, values, and endeavors of others. This process begins with self awareness. The BEVI can help leaders identify their own values and beliefs and their origins as well as the values and beliefs of their staff/employees. In both corporate and non-profit contexts, as well as within governmental organizations, working with a BEVI specialist to gain insights into strengths, skills, areas for improvement, and strategies for development can prove beneficial in all of the following contexts:
Executive Coaching
Professional Development
Team Development
Preparation for Relocation or Repatriation
Human Resources
Vision and Mission Alignment
At times, institutions, organizations, groups, and systems want to develop training activities for specific ends. Using the BEVI report system with groups of all sizes, training interventions may occur across a wide range of contexts and with highly diverse populations. These targeted experiences encompass
traditional organizational and business settings
military
governmental agencies
non-governmental organizations
educational institutions
forensics settings
community groups
boards
other regulatory bodies
Training using the BEVI typically involves the identification and pursuit of specific goals that leadership and/or members in different systems may value and wish to cultivate in a targeted and time-limited manner. The BEVI team will work with you to develop custom training that meets your specific needs and objectives.
The BEVI is a measure that enables us to capture a deeper understanding of human behavior, in favor of carving a road map to a more equitable world and fulfill our potential for greater good. Dr. Shagufa Kapadia, Director, Women's Studies Research Center, University of Baroda, India
Research & Evaluation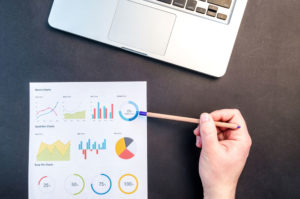 The BEVI is a state-of-the-art instrument that is reliable and valid for a wide array of contexts. It has been used in research as the primary tool of investigation as well as a complementary tool in conjunction with other instruments. The BEVI also includes qualitative and quantitative items, making it a useful tool for mixed methods approaches. This instrument may be just the tool you have been searching for if you are:
a faculty or staff member who publishes scholarship of teaching, learning, and training
a graduate student interested in using the BEVI for thesis or dissertation research
an organization that wants to disseminate assessment or program evaluation findings
a program evaluation consultant interested in adding the BEVI to your toolbox
an entity willing to participate in large-scale multi-institution meta-analyses (see the Forum BEVI project as an example)
See Resources in the top menu for sample publications on BEVI data, or contact us for more information using the Contact link.
I've found the BEVI a most useful tool for evaluating the impact of youth leadership development programs. This is an area that is hard to measure any progress in the short or medium term in an age where funders and sponsors want quantitative data and results. Christopher Shirley, Director, Center for Intercultural Education and Development, Georgetown University, Washington, DC
Mental Health & Well-being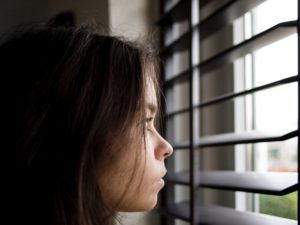 Our needs and values sit at the core of who we are. They influence how we feel about the world and ourselves. Becoming aware of one's beliefs and values and understanding how those values are acquired and maintained can be a healthy process when done with care and the support of professional clinicians or trainers. The BEVI can help professionals in their practice by providing them with the mechanism for making those values and beliefs visible. The BEVI can also allow clinicians and coaches to monitor the progress their clients make.
mental health assessment and intervention
life coaching
Individual, couples, family, and group counseling
conflict resolution
group-based growth and development workshops
well being assessment and facilitation
The BEVI helps us better understand how deeply entrenched our beliefs are, and under what circumstances these beliefs are amenable to change. Dr. Devi Bhuyan, Staff Psychologist, The Menninger Clinic, Houston, Texas
Read About BEVI-AI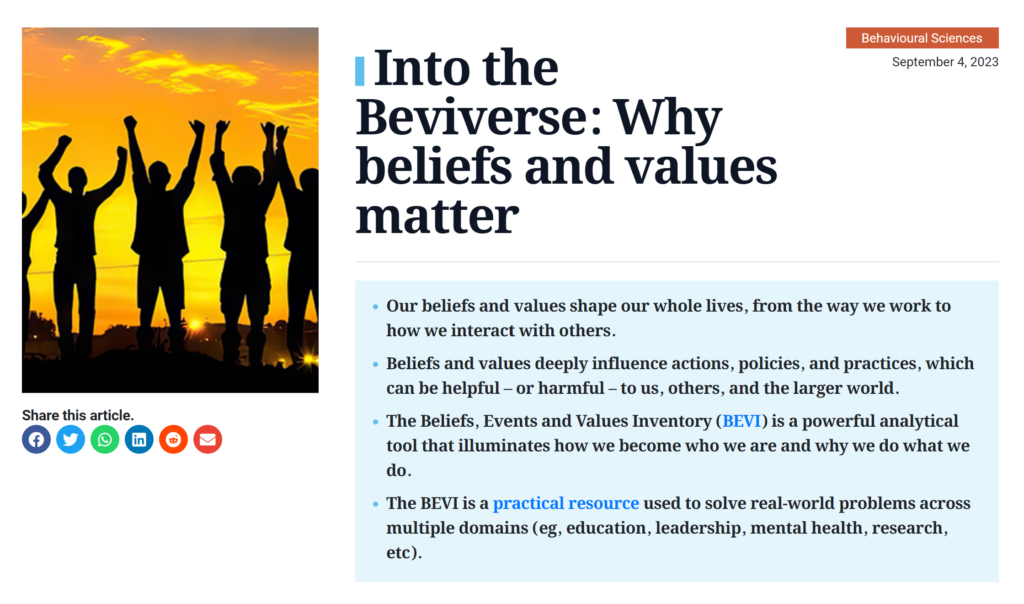 To learn more about the Beliefs, Events, and Values Inventory (BEVI), its Artificial Intelligence (AI) and Virtual Reality (VR) systems, and its many applications around the world, please see the following article in Research Features.